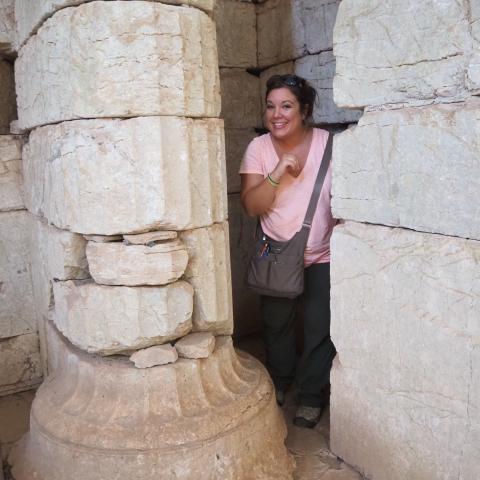 Maribelisa Gillespie (she/her)
Ph.D. Candidate in Classical Archaeology
---
Research Areas
Aegean prehistory; trade and communication in the ancient Mediterranean basin; technology and innovation in prehistory; prehistoric writing systems; Greek archaeology and religion; digital humanities; public outreach.
---
Biography
Maribelisa (Belisi) has a B.A. in Anthropology from the University of Texas at Austin and an M.A. in Ancient Greek & Roman Studies from Brandeis University. She is an active field archaeologist with experience in northern Israel, Crete, Attica, the Cyclades, and the Peloponnese. She currently participates in the Nemea Center for Classical Archaeology's projects at the panhellenic sanctuary of Zeus in Nemea, the prehistoric cemetery at Aidonia, and Petsas House, a ceramic production workshop at Mycenae. Her dissertation project focuses on the large collection of handmade terracotta figurines from Petsas House. In examining this collection, she is focusing on aspects of production and distribution (in conjunction with the other ceramics produced on site), while also considering some of the wider implications these data might have for our understanding of Mycenaean society at the intra- and interregional scales.
During the 2021-2022 academic year, Belisi is the Ione Mylonas Shear fellow at the American School of Classical Studies at Athens.