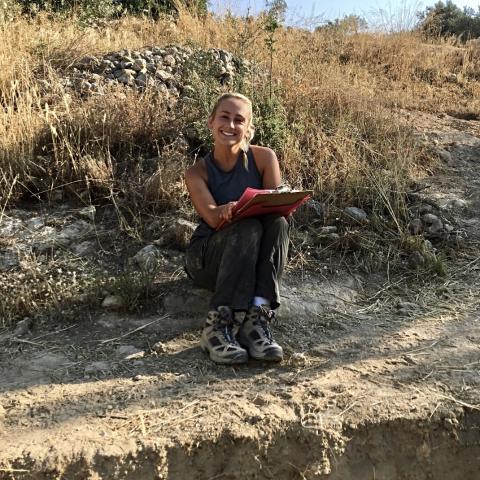 Sophie Cushman (she/her)
PhD Candidate
scushman@berkeley.edu
(Spring 2021) Friday 11-1 via Zoom
---
Research Areas
Aegean prehistory; mortuary archaeology; identity, ethnicity, and material culture; state formation and social structure; administration; writing and literacy; cultural heritage
---
Biography
Sophie is a 5th year graduate student in Classical Archaeology.  She graduated summa cum laude with a B.A. in Classical Studies and Art History from Tulane University in 2015.  Her honors thesis examined the development of communal spaces in Cretan settlements from the Iron Age to Archaic periods.  After graduating Tulane, she completed the Post-Baccalaureate program in Classical Languages at the University of Pennsylvania and joined the PhD program in Classical Archaeology at Berkeley in 2016. 
Sophie earned her M.A. in Classical Archaeology from Berkeley in 2018 with a thesis examining identity construction and agency in Late Minoan Cretan cemeteries.  She has taught courses on Greek archaeology, Roman and Greek culture, and Latin at UC Berkeley.  Her dissertation will examine the social structure of non-palatial communities in the Mycenaean period and their relationship to palatial centers through survey and mortuary data.  She has excavated on Crete and currently works as a supervisor and researcher on the Nemea Center for Classical Archaeology's projects at Nemea, Aidonia, and Mycenae in the Peloponnese. 
In 2021-2022, Sophie will be a Regular Member at the American School of Classical Studies in Athens.
Outside of studying the ancient world, she enjoys hiking in the Berkeley hills or Greek mountains, reading historical fiction, and crossword puzzles.